KingRoot Apk (Not to be confused with kingoroot) is a powerful and free Android Rooting tool to root your Android phones or tablets with just one click. We regularly provide updates for kingroot to make it compatible with more and more devices as well as latest devices. Kingroot Apk supports most variety of devices among all the similar rooting tools. So, it is most likely that kingroot can root your device even if other similar tools failed many times before.
You may also like:
POINTS TO KNOW BEFORE ROOTING YOUR DEVICE:
The software warranty will be void after you root your device.
Your device can be bricked/damaged during or after rooting. We won't be responsible for any damaged caused by use of kingroot to your device. If you are not not confident of taking risk, maybe you should wait sometime before rooting and do some research first.
You can unroot your device later if you don't like rooting.
Just because you root your device doesn't mean you get everything you want. It needs skill and much practice to accomplish your goals, even on these small matters of your life.
Unique Features Of kingroot:-
Most popular and most downloaded One-click root tool for android.
Also, the most trusted tool.
Supports highest number of devices than any other similar tools. Kingroot supports total of 104136 models. Other apps are not even close.
Frequently Updated: Kingroot is updated frequently to support new models and add different features to previous versions.
98.2% Success rate: Kingroot has rooted 98.2% of the total devices that downloaded it and tried to root their device. This is the highest success rate on the industry.
You may also like:
Root Explorer :- Most Easiest tool to hack EVERY android games.
HOW TO DOWNLOAD AND USE KINGROOT APK?
Download kingroot 4.9.6 for Android.                                                                    Download kingroot for Windows
Open the APK file with your default file manager.
If your device displays "Installation Blocked" or something like this message then Go To Setting > Security > and there you can tick the "Unknown sources" box.
Now, open the app.
In the window it will show you "Start root".
Tap on start root and wait some time. It takes time to root your device.
If your device is compatible, it will finish rooting after few minutes. If rooted successfully, you will see "rooted" screen which means you device has been successfully rooted. Congrats!!!!!! You can now enjoy all features of rooting your android.
To become more sure, you can go to google play search and download Root Checker app to Check the Root is successful, as the following figure which represents success. You are always welcome to share your experience or errors in our comment box. If you are still confused, you can view screenshots at the end of this page.
You may also like:
HOW TO UNROOT YOUR DEVICE?
Once, you root your device, it is always possible to get it back to original state. You can follow easy steps described below:
Install SuperSU app from play store in case you were using other root managing tool.
Open it and tap to settings menu.
Scroll down to find "Full Unroot", tap on it.
Congrats, now your device is in original state.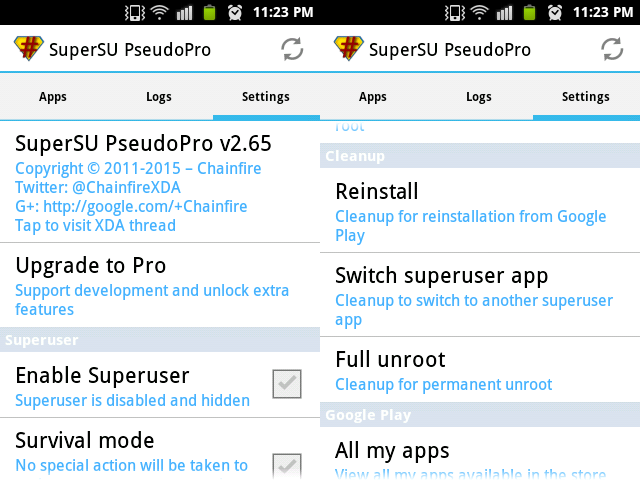 Download Kingroot 4.9.6 for Android                                                         Download kingroot for Windows
FAQs:-
Q. What does root mean?
In every case, whether it is android, web hosting or any other similar activities, root access means access to core part of the system. It means if you gain root access to any system, you can do anything you want to do with that system.
For example, in this site, all you can do is view posts and comment on it, you cannot edit posts and delete them because you don't have root access to my server. This is similar to android, In android all you can do is install and delete ONLY the apps you downloaded from play store and view only the the data, files and folders that android allows you to. But, if you gained root access you can delete any app you want, and view hidden files and folders. Also you can install many kinds of apps that provides amazing features such as Titanium backup, link2sd, Greenify etc, which you can't install on unrooted devices.
Q. If I root my device and then after sometime unroot it, will my warranty continue?
Ans. Yes, your warranty will be continued because they won't know that you have rooted before.
Q. People say rooting is dangerous. Should I do it?
Ans. It is up to you to decide. Actually few people brick their device during rooting and now you can also root your device with 100%safe method. So I think there is not much to worry about, but if you fear so much, please google whether people got error while rooting the device you are using.
Q. Does kingroot support all the android devices?
Ans. Kingroot doesn't support all the models but definitely it supports most of them. Kingroot supports highest number of devices  than that of other android rooting tools.
Q. WHY SHOULD I ROOT MY DEVICE?
1. After rooting your phone, you can delete some software from the system. There is no installing option in the software management inside the root. But after rooting, they can match some file management software to delete the system applications in your phone. This can help save memory space in your phone (suited for low-end smartphone).
2. Some apps need to have the root access to open their functions. For example, Titanium Backup has awesome feature that it can Backup data as well as app/game. But, to use this feature you need root access.
3. Some top android optimized software like Kingroot needs the help of rooting to achieve the best optimization. Like some small functions must be used through roots.
FINAL NOTE:
Kingroot is the most popular and most downloaded one-click rooting tool for android. Though some people still fear about it, rooting has become common thing to most of the android user. Rooting allows you to enjoy the features which normal device users can't even dream of. Kingroot has helped millions of users worldwide to get their device rooted. You can share your experience, issues,or any kind of questions in our comments section. We will be happy to help you and also try to help you as soon as possible.
Thank you very much for visiting our site. If you rooted your device successfully, please don't forget to share our site on Facebook, Twitter or any social sites you follow.
You may also like:
DOWNLOAD LINK:-
Download Kingroot 4.9.6 for Android                                                                 Download kingroot for Windows
SCREENSHOTS:-
Download Kingroot 4.9.6 for Android                                                                     Download kingroot for Windows
ALSO READ:-