Each day we receive more than 100 complaints from the users that their device is bricked (damaged) after rooting and they have lost all their data. A lot of users also complain that their device hangs a lot and is showing the heating problems after rooting.
These problems occur because of rooting devices with unsafe methods and probably with the help of rooting apps. The worst part is, your warranty will be void after you root your android, so you can't claim your warranty even if it is still not expired.
So, it is extremely risky to root your device without proper knowledge. If you are ready to take risk of bricking your device, you can root your android by those root apps, all you need is to download any app from the list of rooting apps for android, install it and root your device in one click.
But what about the safety of your device???
So, we have developed a unique technology to root your device with 100% safety and we are happy to share it with you.
Background
In traditional rooting apps, a single method/script is developed and used to root all the android devices, but it is not tested whether the method on all the devices. So, that method may work for some devices while it can cause serious damage to others. But, In our method, we develop the rooting script for each and every single device separately because of which you will have no chance of getting your device damaged and if IN CASE any problem arises with your device, we will assist you via live chat or Teamviewer.
Requirements:-
1)PC with Windows 7/8/8.1/10 OR Mac
You are getting the following features:-
All android versions supported from android 2.3 Gingerbread to Android 10.
100% guaranteed and 100% safe.
30-Days
Unlimited Remote Support that includes:
Unlimited Rooting (Re-Rooting, Un-rooting)
Unlimited OS Repairs (Soft Brick, Errors, Recovery)
Unlimited Android Support (Install Apps, Remove Bloatware)
24/7 Live Chat – Lifetime Access.
Remember that, to provide you all these features, we need to work hard and we have to pay our employees. So, you are required to pay a small amount of $39.95 to root one device. If you have two devices to root you just need to pay $49.95 and three devices can be rooted by $59.95.
But If your device is not rooted you will get all your money back with our Money Back Guarantee policy.
So, let's enter the topic directly.
How to root android Safely?
At first, you have to be sure whether your device is fully supported or not. So, please Click Here to download our most advanced and secure OneClickRoot app. The app is available for both PC and Android devices.

Download OneClickRoot App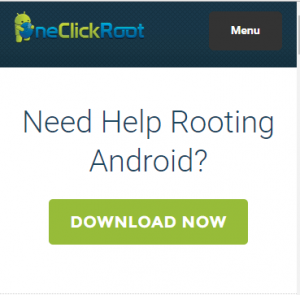 3. Install One click root app on your device and open it. You will see the following window:
4. Tap on "Scan Now". This app will check if your device can be rooted or not.
5. If your device is compatible, you will see a Congratulations notice in a few seconds.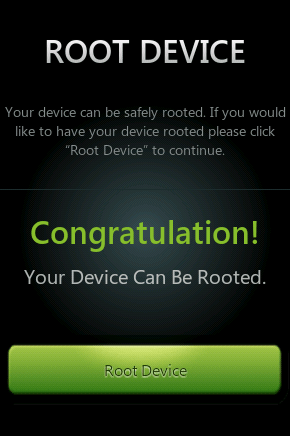 6. Tap on "Root Device" and you will see a "Register to root" window. Since you are paying to root, you should register for it.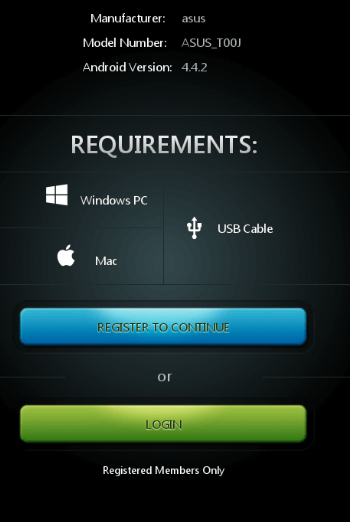 7. Enter your Name and Email to register.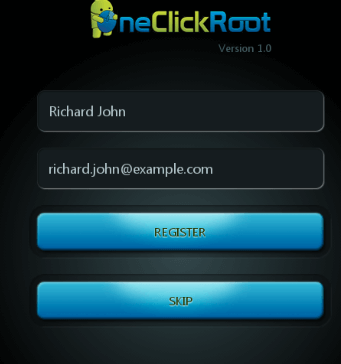 8. Now, you will see "SHOPPING CART", where you can enter the number of devices, if you need to root more than one devices, you can increase the number by clicking the "+" button.
Below that you can see "Include Warranty Protection for $19.95". This means, even if you root your device, we will use a special method so that your warranty won't be void and you can claim the warranty. We strongly recommend you to keep it ticked but you can untick it if you want.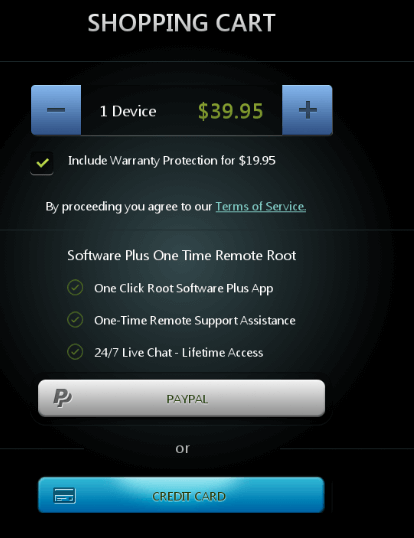 9. Please select whether you want to pay via credit card or Paypal. Now select the same browser you downloaded and you can fill your PayPal or credit card details. All your details will be 100% secure.
10. Select "Process Order".
11. As you have now paid for One Click Root, you can ask help from the Oneclickroot team to root your device. We will help you via Teamviewer or Live Chat. Chat is available 24/7.
12. Now, fill any details asked and the required files will be downloaded to your phone and you will be asked to connect your android device to PC. Required files will be downloaded to PC too.
13. Finally, after some minutes your device will be successfully rooted. You can enjoy all features of rooted android without any risks.
If your device is not rooted or any error occurs, you can get help from our team 24/7 via Live chat or Teamviewer, and if you are still not satisfied, you can ask for a refund